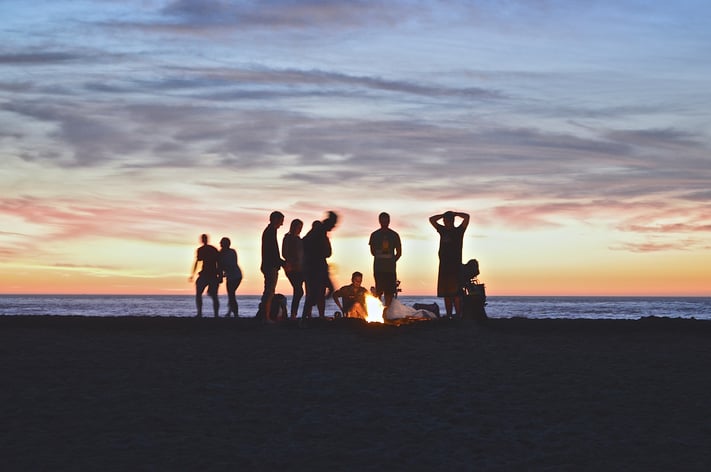 Growing up, I wanted people to like me. I considered it a personal challenge to win people over. And I wanted to feel connected to those people. I was intrigued by spirituality, and how it might make me feel connected, so I would "meditate." But really I was just getting high, contemplating not my place in the vast continuum, but rather how a fish might have a swordfight with a bee.
Never did I take time to look inward, to connect with myself, to explore what was within. That, my friends, was too scary and too much work. I was zipping by in life thinking I was a "part of," but really I was isolated. I was numbing myself and pushing myself further and further away from any sort of real connection.
Before I got recovered I was living in an apartment in St. Paul and worked the opening shift at a coffee shop on Grand Ave. I would ride my bike to work at 4:30 every morning, completely hung over. There, I would drink copious amounts of coffee, get completely revved up, then furiously attempt to do as little work as possible. I drank so much coffee for two reasons: first, and most obviously, to wake up and kick the hangover. Second, as an easy excuse for my shaking hands. Those days, I could barely set a cup down for a customer without splashing it on to the counter. I would just smile and tell people that I should cut back on my coffee.
Yeah, that's it, cut back on coffee……
My shift would end at 11am, then head to one of three liquor stores in my "rotation." I couldn't go to the same liquor store every day otherwise people may have thought I had a problem. At the corner of Hamline and Summit Ave., there is a big old house with a big old porch on it. I would bike by that house almost every day and would see people outside smoking and laughing. Like a good alcoholic I assumed there was a party going on. I could imagine the kegs inside, the shots being poured, and the game of flippie cup that was most certainly happening on the second floor. The people on the porch looked happy, looked care-free and looked connected. I was jealous.
Fast-forward a few years and a few 30-day "vacations." I moved back to St. Paul with some sobriety and a new perspective on life. The first day in my new sober house, my roommates and I went to a meeting. When we arrived at the big old AA clubhouse, I was shocked. The house I used to bike by daily wasn't some frat or party house. It was the Uptown House, hosting AA meetings since 1975.
Little did I know that several years ago, while biking by the house drunk or hungover I was witnessing the promises of this program coming true. The people I saw laughing were "connected," and had some experience with the spirituality I'd been seeking for so long.
It is clear to me now that this program is based on attraction, rather than promotion. Because of my higher power and this program, I am so grateful to finally be a "part of".
Interested in Learning More About the Retreat?
Download our Free Brochure!