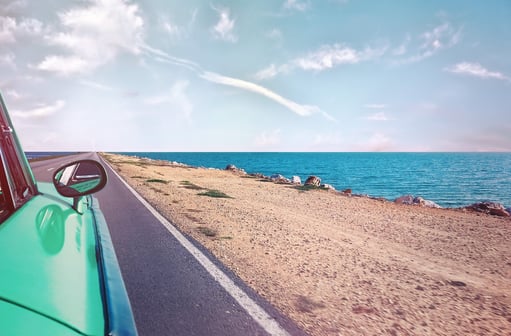 It's Friday, November 1st, and I took the day off. I flew with my wife, Priscilla to Los Angeles. This fall I joined "The Magic Castle" in Hollywood. It is a private club in a castle, located in the Hollywood Hills. I sponsor a 94 year old psychologist who lives in California, and he both introduced me to the Magic Castle, and sponsored me for membership.
My Los Angeles friend knows a lot about loyalty. When he was young, he joined the army as an infantryman during World War Two. He fought all over Europe, including the Battle of the Bulge, where a great many of his fellow soldiers died. He is always faithful to their memories on Memorial Day and Veterans Day, leading ceremonies in the National Cemetery in Los Angeles. He will never let them be forgotten.
This evening we are meeting my AA friend and his wife for dinner and some magic shows at the Magic Castle. Tomorrow night we are meeting my grandson and a friend for the same thing. My grandson is a student at University of Southern California. I reminded him and his friend that the Magic Castle has a dress code and a behavior code and expects guests to behave like ladies and gentlemen. The dress code includes conservative suits and ties for men (no sport coats.)
So, I traveled to Beverly Hills wearing a navy blue suit, white shirt, and red tie. We are staying at the Beverly Wilshire Hotel, which is traditional. Priscilla and I went for a walk on Rodeo Drive to get a light lunch at Starbucks. We were holding hands, waiting for the "walk" light at Beverly Drive and Wilshire.
A nicely dressed young blonde woman walked up, in a black sheath dress with a single strand of pearls, looked at us, and said "It's nice to see a real man in Beverly Hills. You two look lovely." She then crossed the street quickly ahead of us.
I'm seventy years old, and Priscilla is eighty. I have lived these seventy years without anyone ever calling me "a real man." My concept of "a real man" always was someone big, or athletic, or aggressive, like a football player or a lumberjack.
I managed to say "Thank you" before she was gone, and then I wondered why she said it. First, I thought it was because every other man on the street was casually dressed. Half were casually dressed, and half were wearing "distressed" clothes that looked a lot like rags, and made the wearers look scruffy. The only men wearing suits were the doormen at the very expensive stores.
I concluded that it wasn't the suit. It was the picture of loyalty. I was accompanying my wife on this pleasant shopping street, well dressed, holding her hand, and paying attention to her. We both look old, and we have that look of familiarity that long-term couples have. It was our loyalty.
A.A. has loyalty. That is our strength. We hold hands and say the serenity prayer or the Lord's prayer. We hold on to alcoholics who have grown old, or weary, or tired, or drunk.
Our book says, "When we see a man sinking into the mire that is alcoholism, we give him first aid and place what we have at his disposal." (p.132)
The next time you are holding hands at an A.A. meeting, remember the loyalty of all the alcoholics who are joined together in fellowship at the same time around the world.