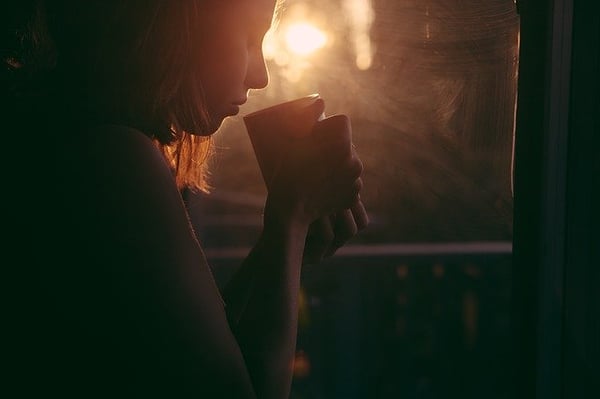 Just a little backdrop... Recently, I have experienced what some might define as significant losses: My last surviving parent died in October; I ended a long-term primary relationship in November; My darling dog of 10 years was put to sleep in February. I am an empty nester, living in a new home in rural America. Despite these losses, daily life was fulfilling and meaningful. I had a job I adored, good friends, a busy social and volunteer life, and, most importantly, a wonderful AA community that grew and deepened every day!
Then the pandemic...
The largest and most pervasive of the losses has hit me in the face, full on with this pandemic.
I haven't seen a living human in over a week, and as an extrovert, I am amazed I am still alive. I literally energize in community. I am speaking in solidarity to my fellow "live-aloners", who listen to their friends talk about how they are going nuts all cooped up with their families.
As we hear people talking of family game nights, re-kindled relationships with kids, slipping into resentment, remorse and morbid reflection might seem tempting if not appropriate. Many older folks like me have children who have moved on, and some of my fellows are retired... the social and family circle is thinning out as is the natural course of things. Losing our "AA found family" in a nanosecond is devastating for many of us "live-aloners".
The "why me's", "why bother's" come slipping in the door. My alcoholism is alive and well in that dangerous space. It is deafeningly lonely without a busy schedule, a job to go to, activities to distract us from that reality. AA has kept me sane and on a path toward wellness for the last 19 years, and the fellowship has been a blessing beyond words. Losing meetings and fellowship felt like a bomb dropped at first... I have been brought to my knees many a day during this pandemic induced free fall.
So, I continue to ask God, as I do every day, use me today... help me do His will and show me how exactly to do that. (I am a little thick and need a lot of guidance on that front). I am slammed with the "do the next right thing" of this program. Make my bed and get dressed. I am told to get out of myself, be of service. Make that phone call to someone worse off, someone alone and struggling with sobriety. Reading the Big Book with them, somehow really truly makes me feel better. It lifts my day. I stay sober. Over and over, day by day I am challenged, as are we all by our demons of selfishness and self-centeredness, and the tournament is in full swing right now. I'd be lying if I told you this was a piece of cake, that its easy all the time. This is the second hardest thing I have ever done in 19 years of sobriety, and I make no Pollyanna promises that this will be easy for anyone. All I know is life has meaning for me today, I have a purpose for getting up and breathing sober today. My purpose, plain and simple... To help another alcoholic and walk through this life with an attitude of kindness and gratitude. Those words are simple, in practice Herculean. So, I'm going to attempt to keep on doing it... one breath at a time.
Now, if I choose to learn Zoom, I can have meetings in my living room all day long. I can look at the full half of the glass... at the gift in it all. Complaining (aka resentment) fixes nothing but puts my feet squarely in Hell. I have a choice today to go to Heaven or Hell. The way I get to Heaven is to practice self-care (Yes, lots of bubble baths and classical music rather than endless news cycles and freaking out on the phone with my friends about my 401K) Yet, a full on deep dive into my spiritual program and my gigantic online fellowship will carry me. I am confident. I just have to say yes, listen to instructions and be of service to the alcoholic "next" to me.
For More Information on The Retreat Programs Please Download our FREE Brochure.