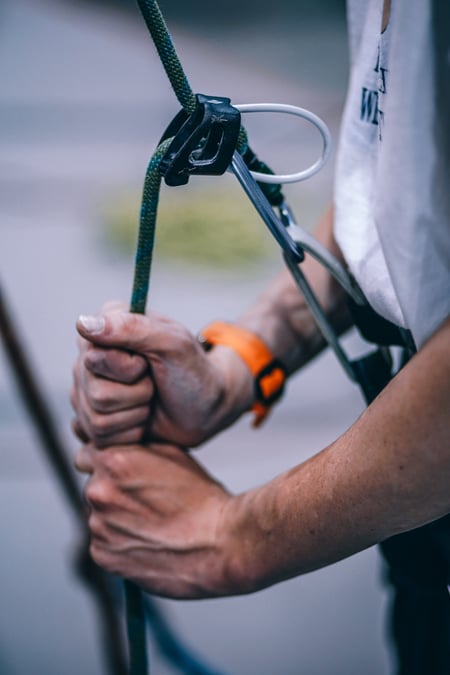 The A.A. Big Book, on page 60, states "The point is, that we are willing to grow along spiritual lines. The principles we have set down are guides to progress. We claim spiritual progress rather than spiritual perfection."
As A.A. as a whole seeks spiritual progress, we have admitted that not everyone at an A.A. meeting is entirely safe to be with. Some newcomers are really, really, new, and have not left their alcoholic behavior, or "street" behavior behind. Some want to use A.A. as an employment agency, as a bank, as a dating service, or as a place to freely express their prejudices, anger, or resentments.
There are two words in "Alcoholics Anonymous": "Alcoholics", which is what we are, and "Anonymous" which is what we believe. "Alcoholics" has come to mean anyone who is an alcoholic, or anyone who is addicted to chemicals who has, as Tradition Three states, a desire to stop drinking. "Anonymous" is much more than not using last names. In fact, A.A. even encourages the use of last names within our meetings.
The A.A. booklet "Understanding Anonymity", in its last paragraph, encourages the use of last names within the fellowship, so we can be identified to each other, for the purpose of being available for service. Anonymity is not privacy. It is the spiritual foundation of all our traditions, as Tradition Twelve says, ever reminding us to place principles above personalities.
In A.A. we value everyone the same, as children of our Creator. We treat everyone with dignity and respect. When someone has a spectacular relapse, we just look kindly upon them and say "There, but for the grace of God, go I." We do not criticize them, we place what we have at their disposal and try to help.
The "A.A. Safety Card" says this: "Alcoholics Anonymous is a microcosm of the larger society we exist in. As such, problems found in the outside world can also make their way into the rooms of A.A." The card encourages groups to discuss the safety and well-being of members in their group conscience meetings and to ensure a safe environment for all. The card specifically states that if anyone breaks the law and endangers another A.A. member or guest, calling the police is appropriate. The card states: "Calling the proper authorities does not go against any A.A. Traditions and is recommended when someone may have broken the law or endangered the safety of another person."
In additional to physical safety, we need to ensure emotional safety for our A.A. members and guests, especially newcomers. Successful A.A. groups deliberately try to eliminate racist, sexist, and homophobic remarks from meetings, usually by having longer term members challenging those remarks when they come up. Group practices such as rotating offices between male and female members and inviting newcomers into positions of responsibility helps everyone feel welcome.
We don't let unkindness pass simply because it is disguised as humor. Alcoholism is an inherited disease, and we often inherit it within alcoholic families. Many of us grew up in alcoholic families where we were not valued and were the butt of cruel "jokes". As adult children of alcoholics, who have become alcoholics ourselves, it can be very useful for us to stop passing on the casual cruelty of mean jokes about ourselves and others.
A.A. is a spiritual program. The safety card is just one way that we in A.A. demonstrate our belief that we are all children of God. We believe that each person is valuable to God, and we choose to behave as if each person is equally valuable to us.
John MacDougall is the Spiritual Care Coordinator at The Retreat.
His book, "Being Sober and Becoming Happy" is available from Amazon.com.
The Safety Card for A.A. Groups is on the web at: https://www.aa.org/assets/en_US/f-211_SafetyCardforAAGroups.pdf