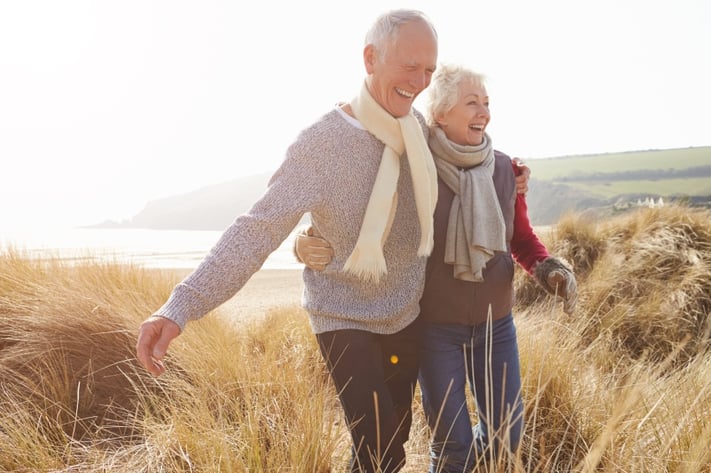 In 2013, my wife Priscilla persuaded me to write a book, that I called "Being Sober and Becoming Happy." I had worked at the Hazelden treatment center for 19 years, as Director of Spiritual Guidance. I did a lot of patient lectures, and had developed a long list of lectures. Priscilla kept saying "You have to write these things down." I said, "I'm a talker, not a writer." She kept after me. After about a year, she said "You're getting old. Eventually you'll die. All the lectures will be lost. You should write this stuff down." So, I agreed.
I took the nine things I thought were the most important about recovery, and turned them into nine chapters of a book. The theory is simple: At first, we take the Twelve Steps to stop drinking and stop taking drugs. Then, if we keep on taking the steps, in sobriety, we end up happy.
Last week, a Retreat guest asked me about the "recidivism rate" in A.A. They were concerned that the rate wasn't very good, and that they might be one who was "fated to relapse" so that someone else might live. I told them that the percentage of people who ever attend A.A. and then attain lasting sobriety is about 60 per cent. We could call that a "recidivism rate" but I think that is misleading. It is more accurate to say, as the Big Book does, that "Rarely have we seen a person fail, who has thoroughly follow our path." No one is fated to fail, or succeed. We fail or succeed according to how thoroughly we take the Twelve Steps.
I said that my son-in-law is a cardiologist. People who have a first heart attack usually get some form of interventional cardiology: a bypass, a stent, an angioplasty, some treatment. Then they get the same advice: better diet, stop smoking, lose weight, and start an exercise program. About 50% of the people who get that advice follow it. About 50% of the people who have a first heart attack have a second one. There is a substantial relationship between following the doctor's advice and avoiding a second heart attack. It's the same thing with alcoholism. If we follow our program's steps, we are likely to stay well.
With heart disease recovery, we just return to normal. With A.A. recovery, we surpass normal, and get far better than normal. Our program offers a spiritual awakening that lets us live far better than normal. Bill Wilson wrote that the cessation of drinking was but a mere beginning in our program of recovery. We discover honesty, openness, and willingness to change. We discover love and friendship, fellowship and hope, the love and comfort of a Higher Power, and a way of life that is satisfying.
I agree with "Fred", who wrote on page 42 of the Big Book,
"Quite as important was the discovery that spiritual principles would solve all my problems. I have since been brought into a way of living infinitely more satisfying and, I hope, more useful than the life I lived before. My old manner of living was by no means a bad one, but I would not exchange its best moments for the worst I have now. I would not go back to it even if I could."
My book is available from Amazon.com in paperback and in Kindle e-book format. I will be doing a lecture series based on the book at The Recovery Church, 253 State Street in Saint Paul, one chapter a month, starting on Thursday evening, August 10th at 7:00 pm. I'll also be doing a lecture series at the Basilica of St. Mary's School in Minneapolis starting in September (mary.org). Here at The Retreat I'm leading a weekend retreat based on the book during the weekend of August 25-27. Information is on The Retreat website.
I just like to share my ideas on how these Twelve Steps can make life so much better than we imagined when we started on the road to recovery!
For More Information Download our FREE Brochure!