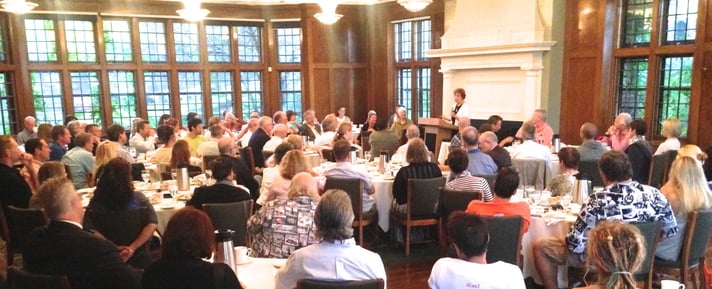 So you've been asked to bring a meeting into a facility. Congratulations! What an honor and privilege it is to be involved in service. As it states on page 89 of the book Alcoholics Anonymous:
"To watch people recover, to see them help others, to watch loneliness vanish, to see a fellowship grow up about you, to have a host of friends--this is an experience you must not miss. We know you will not want to miss it. Frequent contact with newcomers and with each other is the bright spot of our lives."
As you go forward in your service work, you may want to keep these five helpful hints in mind.
The 3 P's of Service:
Punctual - always arrive ten minutes early before the start of the meeting to get things set-up and ready to go. Running in at the last minute will make you feel rushed and ill-prepared.
Polite - be polite to the attendees and the staff. Remember they are doing us a favor by allowing us to come into their facility. They are giving us an opportunity to do our 12th Step.
"Practical experience shows that nothing will so much insure immunity from drinking as intensive work with other alcoholics. It works when other activities fail. This is our twelfth suggestion: Carry this message to other alcoholics! You can help when no one else can. You can secure their confidence when others fail". (pg. 89 in Alcoholics Anonymous).
Practiced - although we "should remain forever non-professional", know your stuff before you go. Read ahead, do your homework, be knowledgeable about the A.A. program. Remember you may be the only copy of the Big Book someone will ever see.
Attitudes and Action:
Am I carrying the message or the mess? As someone once said "A.A. stands for attitudes and actions". Make sure your attitude is about giving away that which was freely given to you. Bring your best to the meeting and give your worst to your sponsor.
Can't show-up – Find a back-up:
Life happens, kids get sick, people have to work late, vacations come up, etc., etc., etc... Understood. But, if you are unable to follow through on your commitment, find a back-up. Our disease doesn't take a break, neither should the solution. If your network of A.A. friends can't fill-in for you, call your local A.A. assistance line or your Intergroup.
We have no opinion:
We have been invited in to the facility to carry the message of Alcoholics Anonymous. We do not offer opinions on the course or type of treatment, the use of medications, or the efficacy of one program over another. As our tenth tradition reminds us "we have no opinion on outside issues".
Carry its message:
Tradition number five reminds us that "each group has but one primary purpose – to carry its message to the alcoholic who still suffers." Thus, each group carrying a meeting into a facility has the freedom to select a format that is best suited to its message. For example, a Big Book group may want to bring in a Big Book meeting or a 12x12 group may want to bring in a 12x12 meeting.
However, it is highly recommended that a group have a developed format for their facility meeting. Winging it one week might go OK, but week after week of winging it will get old quickly for both the facilitator and the meeting attendees.
Lastly, bear in mind that we ultimately do service work to obtain a daily reprieve from the first drink. We aren't going into the facility to get others well; we are going in to keep ourselves well. As stated on page 94 of the book Alcoholics Anonymous:
"It is important for him to realize that your attempt to pass this on to him plays a vital part in your own recovery. Actually, he may be helping you more than you are helping him."
For More Information Download our FREE Brochure!