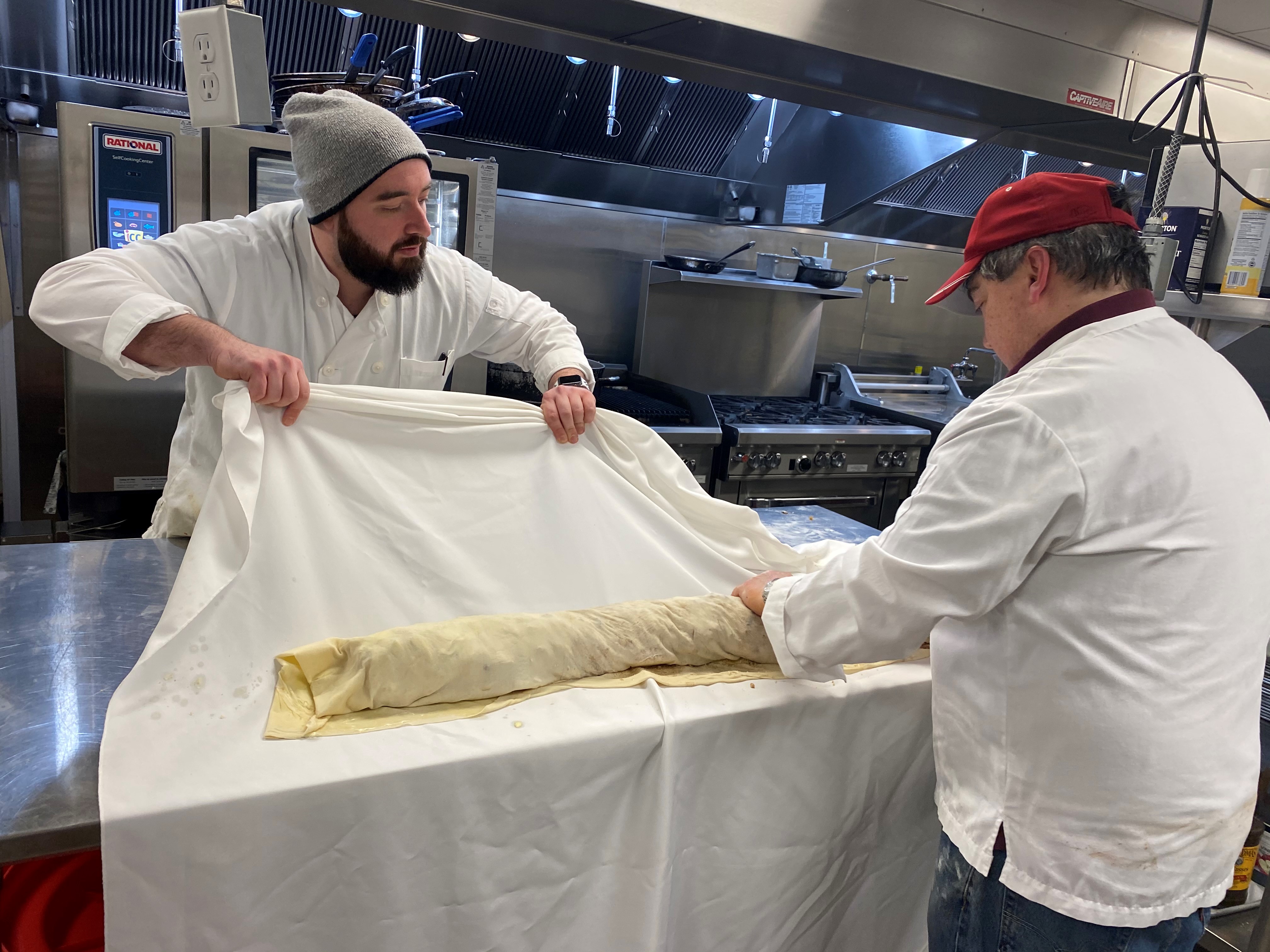 Making Apple Strudel
I've always been fascinated by food. Ever since I was a little kid, I loved the different dishes my dad would cook. My dad is Persian and growing up he would often cook authentic Persian dishes. Ghormeh Sabzi, Baghali Polo, and lamb kebabs were all very common at our house. Like so many other things, addiction took my love of food away. At my lowest point I was eating white rice as my only meal every day. Looking back at my life then, it's hard to say what my real rock bottom was - the crippling depression, isolation, or lack of variety in my diet.
Fortunately, thanks to the program of Alcoholics Anonymous, The Retreat, Alina Lodge, and the unwavering love and support of my family, I have been able to maintain sobriety for more than five years. Among the many gifts' sobriety has given me is a renewed passion for food and cooking. Working at the Retreat, first as a cook, and now as Sous Chef under Chef Kenny has given me a first-class education as well as a basically limitless platform to explore my curiosity around food.
Chef Kenny is one of those bosses that makes you love your job. He is incredibly knowledgeable about food, techniques, and the history and authentic preparation of dishes, but it is his willingness to teach that has been so impactful. Not just for me, but every volunteer who steps in the kitchen, whether they want it or not, will likely get the extended history of whatever dish we are cooking that day. Chef Ken has also allowed me to go on my own culinary journey, encouraging me to research a dish and then ordering all the ingredients we need and tackling It with me. Many of the more exotic dishes we have made in the last several years were the result of casual brainstorming (followed by frantic research on my part) and were often the first time either of us had cooked them.
Cooking in recovery allows me to utilize my creativity, nourish my body, and give back to the community that saved my life in a meaningful way. I'm so grateful to have an outlet that is so satisfying on so many levels, and I am especially grateful to be part of an organization that recognizes the importance of good, interesting food to a well-balanced sobriety.