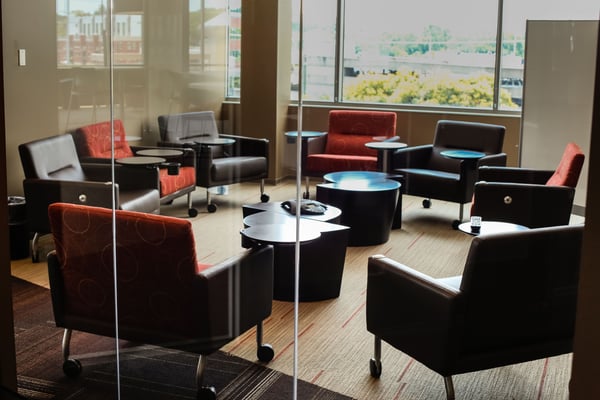 I just returned from a Christmas cruise with a family group of nine people on Holland America's new ship, the Niew Statendam. Our group of nine included my wife and myself, our two daughters, two sons-in-law, and three grandchildren. We all get along well.
We went from Fort Lauderdale to San Juan, The Dominican Republic, St. Thomas, the Bahamas, and back in a week, with two full days at sea. Every day, the ship's activity log had the same listing: "Friends of Bill W. meet in the Stuyvesant Room at 4:00 p.m." The phrase "Friend of Bill W" is code for an A.A. member. If you want to inquire as to whether someone else is in our program, just ask "Are you a friend of Bill W.?" If they are not part of A.A., they will just be puzzled, and you won't have revealed that you are part of A.A. If they are part of A.A., they should recognize the "Bill W." part, and you have found another A.A. member. It was a little confusing during the Clinton administration, when a "friend of Bill" could be a political supporter of Bill Clinton, but that's why the phrase was lengthened to "Bill W."I have been on five cruises over the years, and every one had a listing of this type.
I went to the meeting all seven days on our recent cruise. We had three men who attended every day, and we all had a great time. It turns out that we all had the aviation industry in common. One of us works as a flight attendant for a major airline and is his company's employee assistance program representative for the flight attendants. He is in charge of getting alcoholic or addicted flight attendants into treatment and aftercare. I worked with Northwest Airlines pilots who were in the HIMS program, for alcoholic pilots for twelve years when I was at Hazelden, in part because I have had a pilot's license and I understand the airlines. Our third every day man was a retired Air Marshall from Homeland Security, who protected hundreds of flights. We had an immediate and happy kinship that came from our common experiences of sobriety, and from flying sober.
One evening a married man and woman came to the meeting. They came just once, when they were in distress. They were part of a family group of 17, who were not getting along well. That evening, the infighting was particularly severe, and they came to get away from it. They just talked about their family problem, not about any Twelve Step solutions. We invited them back, but they did not return.
On the last evening, a young man came who had been to A.A., and had remained sober, but who was not currently attending A.A. at home. We all had had a day at the beach. There, he lost an inexpensive bracelet in the ocean. He was surprised to find himself very angry about it. He said the bracelet wasn't special, and it could easily be replaced, but he was exceptionally angry about it and came to the meeting because he was concerned that he might drink. He spoke mostly about the bracelet and not about the program or any step. Because it was the last night, we encouraged him to continue his A.A. program at home.
What I took from this experience was the fact that the three of us who were doing A.A. meetings on a regular basis, in this case every day on board ship, were happy, joyous, and free. The two who went to A.A. only when they had a problem, were finding that A.A. didn't solve their problems very well. This reminded me of the closing of some A.A. meetings, where they say "Keep coming back, it works if you work it."
John MacDougall is the Spiritual Care Coordinator at The Retreat
His book, "Being Sober and Becoming Happy" is available from Amazon.com