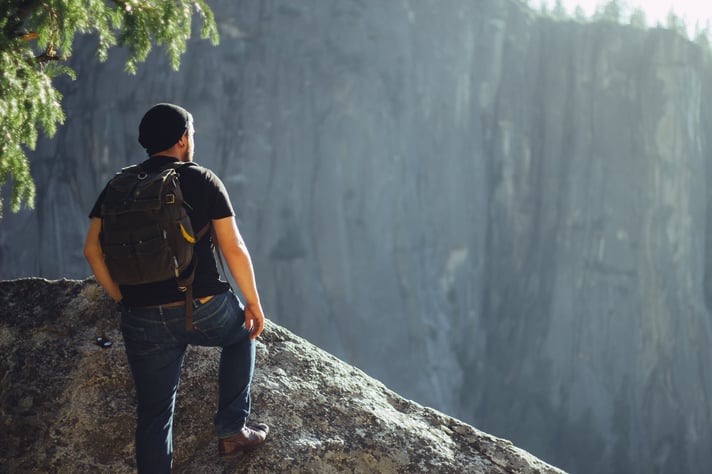 I deployed to Tallil, Iraq in January of 2007. When my transport plane landed, I got worried. Would I hold up under combat conditions? Would I remember my training or, would I wither in the face of fire? I deplaned and stood on the tarmac to get my bearings and there a few hundred meters from my location I saw a church steeple. I thought to myself "before I do anything else, I'm going to go into that church and just say a quick prayer of gratitude to God for getting me safely to Iraq."
I went into the church and the first things my eyes fell upon were a bulletin board. On that board was a flier that said "The Camel Spider A.A. Group of Tallil, Iraq meets: Mondays, Wednesdays and Sundays. As a long-time member of A.A., I felt like I had just come home. I knew that my Higher Power was looking over me. Of all the combat outposts He could have stationed me on; He picked one that had an A.A. meeting. It is said that "God will do for us that which we cannot do for ourselves" and I knew that was the case when I got to Iraq.
After my tour I fell into a depression; my life seemed void of meaning. Everything we did in Iraq had life and death implications; everything had to be done with precision and urgency; everything seemed so important and meaningful.
Life back in Minnesota seemed dull and opaque. Conversations were mundane. Nothing had that sense of urgency or importance. I didn't know what to do or where to turn, but while driving around one day my eyes fell upon another church steeple – this time it was my own home church – Bethlehem Lutheran.
I walked into the church and asked if I could speak to the pastor. The receptionist went and got the pastor immediately. I spoke with the pastor for about an hour. I can't remember a lot about what was said, but I have carried this with me ever since that conversation. The pastor quoted from St. Paul saying… 'For when I am weak, then I am strong.' 2 Corinthians 12:8-10. NIV.
The moment I heard that I realized that I was too reliant upon my own human power to fix my depression. I was closing myself off from the "sunlight of the spirit". I had forgotten that when I rely upon God's strength instead of upon my own inadequate strength, then I am really strong.
I had learned this lessons years ago when I took the first step of A.A.'s twelve steps. But now I had to learn it again. I had to surrender to win. I had to have the courage to be weak.
It has been ten years now since that conversation at Bethlehem, but I carry that lesson with me as if it were just yesterday. It is said that "God will do for us that which we cannot do for ourselves" and that has been proven to me over and over again.
For More Information on the recovery programs offered at The Retreat - Download our FREE Brochure!