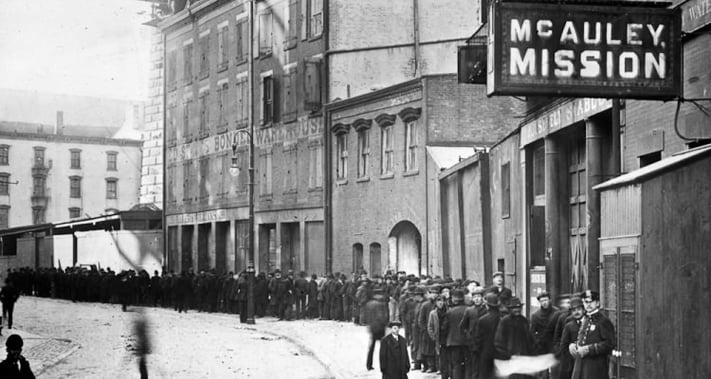 Christmas Dinner Line Outside McAuley Mission, 1905 | via aabeyondbelief.com
Sixty-Four years before Bill W. met Dr. Bob, Jerry McAuley founded the Water Street Mission in New York City. It was the first of America's Gospel Missions, and it is still open today as the New York City Rescue Mission.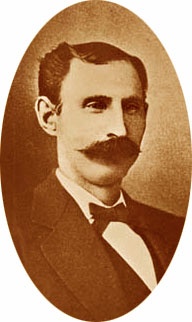 Jerry was born in Ireland in 1839. He was raised by his grandmother, because his mother either would not or could not care for him. He seemed to be a bad boy, because his grandma cursed him for throwing clods of dirt at her as she prayed her rosary.
She eventually shipped him off to relatives in New York City. He repeatedly ran away from this home and lived by stealing, drifting in and out of jail. He would get drunk on whiskey and fight. Eventually he got sent up the river to Sing Sing prison. There he learned to read, and was informed that it was the whiskey that made him so mean.
Once released, he returned to New York, and switched to beer, thinking that he wouldn't get in such trouble if he drank beer, which was believed to be much less trouble than whiskey. He fought again, and was returned to Sing Sing.
There, he met another inmate, Oliver Gardner, who was a Christian, and read the Bible with him. They prayed together, and Jerry became a Christian, too, instead of a nominal Catholic. Oliver suggested that Jerry drink only iced water.
On March 8, 1864, Jerry was pardoned by Governor Horatio Seymour, based on his good behavior. Jerry returned to New York, went to work and saved his money, drinking iced water. On October 8, 1871, Jerry opened the Water Street Mission in New York City to help men like him recover from drinking and the problems that go with it. The setting was an old dance hall, and the location, Water Street, was a pun, based on the cure of drinking iced water and having faith in God.
Jerry's Water Street Mission inspired Emma Mott Whittemore to open the Door of Hope for Women shortly afterwards, and it has been the model for "Gospel Missions" all across America.
Jerry's Water Street Mission is still open, under the name "New York Rescue Mission". It supplies meals, emergency shelter, clothing, a nine to twelve month addiction recovery program, career counseling, a medical clinic, and social services to a mostly homeless population in New York City.
It was the inspiration for the Union Gospel Mission in Saint Paul, which offers addiction recovery, 400,000 meals a year, transitional housing for men, women, and children, Minnesota's largest free dental clinic, a medical clinic, job training and educational programs, a summer camp for kids, a child care center, teen outreach and Asian ministries. The addiction recovery program is the Christ Recovery Center, which uses the Twelve Step Recovery program of Alcoholics Anonymous, with a Christian approach of taking Jesus Christ as one's Higher Power, just as Jerry McAuley did back in 1864. (Read more about the Union Gospel Mission at ugmtc.org)
I am a member of The Recovery Church in Saint Paul, and every Sunday there's a minibus from Christ Recovery Center, bringing guests to our church. They are among the happiest, and most grateful alcoholics and addicts I meet. We love to welcome them. We hug them and love them up.
It's 145 years since Jerry McAuley put his insight about iced water and Jesus into action. Gospel Missions today have added A.A. and the 12 Steps to his basic plan, and the results are outstanding, all across America.
Interested in Recovery Programs at The Retreat?