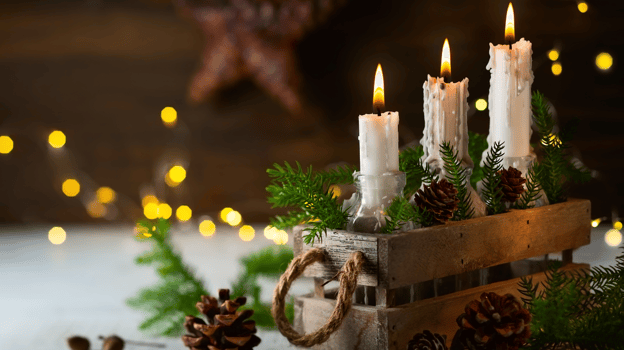 The holidays may be "the most wonderful time of the year", but for those new in recovery they can be fraught with stress and worry. In this article we'll talk about how a person in recovery can navigate the holidays season while remaining clean and sober, happy, joyous, and free.
The end of the calendar year is often a time for after-work business functions or family gatherings. You're in recovery now and you don't want to offend anyone by not going, but you're concerned that you may be triggered by the alcohol that will be served there. What do you do?
On pages 101-102 in the book Alcoholics Anonymous there is sage advice about how to deal with drinking situations. The author had this to say about drinking environments.
"So our rule is not to avoid a place where there is drinking, if we have a legitimate reason for being there. That includes bars, nightclubs, dances, receptions, weddings, even plain ordinary whoopee parties. To a person who has had experience with an alcoholic, this may seem like tempting Providence, but it isn't.
You will note that we made an important qualification. Therefore, ask yourself on each occasion, "Have I any good social, business, or personal reason for going to this place? Or am I expecting to steal a little vicarious pleasure from the atmosphere of such places?" If you answer these questions satisfactorily, you need have no apprehension. Go or stay away, whichever seems best. But be sure you are on solid spiritual ground before you start and that your motive in going is thoroughly good. Do not think of what you will get out of the occasion. Think of what you can bring to it."
Some additional helpful hints for going to holiday functions are:
a. Bring something non-alcoholic with you in case it isn't provided by the host. You don't have to walk in with it, but just keep it in the car as a backup plan.
b. Let your sponsor, or someone in your recovery circle know that you're going to an event where alcohol will be served as an accountability check.
c. Have an exit strategy. Don't be dependent on someone else for departing if you start to feel uncomfortable. Have a backup plan, like Uber, Lyft, Taxi or a friend in recovery who can come and get you.
It's your turn to host a holiday function and there is an expectation that alcohol will be served. What do you do?
a. First, it's your place, your space, your rules. If you're not comfortable serving alcohol - then don't. Your real friends and family will understand.
b. Introduce your guests to non-alcoholic holiday drinks. Soft drinks and bottled water can be rather boring. Spice up your holiday drink offerings with innovative options like non-alcoholic champagne, non-alcoholic punches, or sparkling water mixed with fruit juices and garnished with fresh fruit or mint leaves.
c. If you do serve alcohol, don't over-order and have it sitting around afterward. Your family and friends may not drink as much as you think they do.
Some in recovery may be estranged from family. Many of us have found that recovery has built a bridge back into the lives of our family members, but it took time and certainly did not happen overnight. So, if you won't be spending time with your biological family for the holidays what do you do? Where do you go?
a. "Meeting makers make it!" There is a plethora of meeting options for people in recovery during the holiday season. Our motto in recovery is, "The disease doesn't take any days off, so the solution doesn't take any days off either." Being with people in recovery can add joy, fulfillment, and contentment to your life at what otherwise may be a difficult time. Go to a meeting and take a newcomer with you.
b. Host a gathering for your recovery family. If you can't be with your biological family at this time, invite your family of choice over for some fellowship, fun, and food.
c. Enjoy some of your local community festivities. There is a multitude of outdoor gatherings, holiday concerts and the like running through the holidays. Many of these are free and open to the public. Put on your festive holiday clothes and enjoy some music, theater, or dance.
d. If you really want to catch the holiday spirit, try doing something for others. There are many programs that are looking for volunteers to help with toy drives, clothing drives, or to prepare and deliver holiday meals. Check with your favorite religious organization, or local community center to see how you can help and give back freely that which has been given to you. "For it is in giving that we receive."
May the sunlight of the Spirit shine upon you and yours at this blessed time of year.