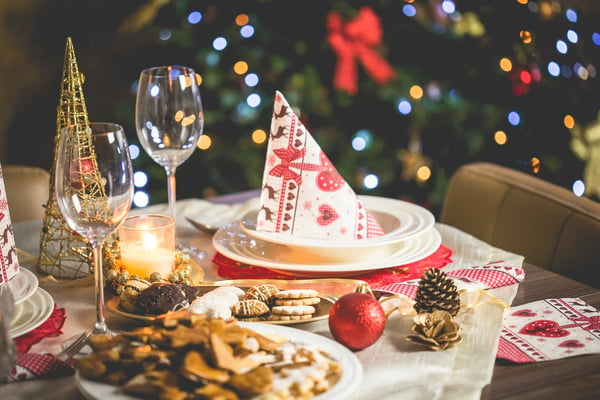 Staying sober during the holidays can be a challenge. Alcohol permeates so many traditions associated with this time-of-year. From baking recipes that call for alcohol, to festive holiday drinks that are spiked, to toasts at the end of year, all of these traditions seem to revolve around alcohol. However, now that your life no longer revolves around alcohol, perhaps its time to make some new holiday traditions.
I was reading recently in a recovery online forum where a person was concerned about going to an office party. He wanted to drink something festive and non-alcoholic, but didn't know of any mock cocktails. Here are a few of the suggestions that were offered: cranberry juice with ginger ale, lemonade with ginger ale, apple juice with ginger ale and orange juice with ginger ale.
For those who may be calorie conscious, you can substitute soda water or sparkling mineral water for the ginger ale. This makes for a fun, festive holiday drink that is half the calories.
While I was on an assignment in Saudi Arabia, (where all alcohol is forbidden) I fell in love with Saudi Champagne: One-part apple juice, one-part mineral water and one-part ginger ale. The restaurants would serve it in a large glass pitcher filled with ice and garnished with mint leaves. It made for a delightfully festive, refreshing and non-alcoholic drink.
What about hosting your own sober celebration?
Many people in recovery at this time of year like to throw sober celebrations to help ring in the holidays and to celebrate the blessings of sobriety. Here are a few tips to make your sober celebration a success.
Don't go it alone. Invite a few friends to help with the planning and work. The planning and "doing" can be just as much fun as the party and celebration.

Consider making it a mini-meeting. At some point during the evening invite your guests to share for a few minutes about the joys and blessings of sobriety. These spontaneous and heart-felt sharing's will bring everyone closer together.

Be considerate of your guests' dietary habits and restrictions. Just like it is awkward when you go to a party and the host has very few if any non-alcoholic drinks, it is also awkward for the people who have dietary restrictions when there is nothing for them to eat. Have a few items or snacks that anyone can enjoy.

Invite your sponsees to the event or reach out and bring a few newcomers to your celebration. Make it an inclusive event. When you see the look on their faces – you'll be glad you did.

Consider taking up a collection for those less fortunate. Give the money as a group to a homeless shelter, Salvation Army Santa, or buy some gifts for Toys for Tots. Tis the season and people feel good when they are doing good.

Have a song book or some sheet music of holiday songs. Invite your guests to do some spontaneous and unrehearsed caroling either at the party or in your neighborhood. This is sure to bring some laughter and joy to the group.
Finally, here are twelve-time proven practices, techniques and tactics to celebrate the holiday season sanely, safely and in sobriety.
Line up a few extra recovery meetings. Even if you don't feel you need them, the person sitting across from you might be very grateful that you came.

Consider doing some volunteer work for the program by either: making phone calls, taking a meeting into a hospital or detox, or just reaching out to the newcomer in a meeting.

Avail yourself of the plethora of recovery activities that go on at this time of year. Sign-up to chair a marathon meeting, or pay for a newcomer's admission to a recovery event.

If you are nervous or uncomfortable about going to an event where there will be drinking – don't go. Don't tempt fate. You don't have to explain yourself and "Thank you, but I'm unable to attend" is a full sentence and doesn't require any more explanation than that.

If you are going to a party where there will be drinking, make sure you bring your own non-alcoholic beverage. You don't want to be in a situation where you hear "I'm sorry, but the only non-alcoholic drinks we have are mixes and we're low on those".

If you are at a drinking occasion, plan an escape route. Don't be dependent on another person for your ride back home. You may feel the need to leave and your ride is just getting started. Drive your own vehicle or be prepared to leave via taxi, Uber or Lyft.

Don't isolate – get out and enjoy the holiday lights, visit your house of worship, or take a brisk and invigorating walk.

Keep a list of recovery contacts readily available and on speed dial.

If you have cravings, carry some hard candy in your pocket and pop one when an urge comes over you.

Enjoy the festivities of the season by partaking in tree lighting ceremonies, community concerts and the like. Many of these activities are open to the public, free-of-charge and don't involve drinking.

Try volunteering at a homeless shelter or serving a holiday meal to those less fortunate.

"We tried to carry this message" – the best way to stay sober is to help another alcoholic or addict. It works when nothing else will.